Twelve sacred Songs op. 137
for voice and piano, harmonium or organ
Creation
Komponiert in Meiningen, August 1914
---
Performance medium
Voice; Piano; [Reed organ]; [Organ]
---
---
1.
Reger-Werkausgabe

Bd. II/7:

Vokalwerke mit Orgelbegleitung und weiteren Instrumenten

, S. 66–77.

Herausgeber

Alexander Becker, Christopher Grafschmidt, Stefan König.
Unter Mitarbeit von Dennis Ried und Stefanie Steiner-Grage.

Verlag

Carus-Verlag, Stuttgart; Verlags- und Plattennummer: CV 52.814.

Erscheinungsdatum

Juni 2019.

Notensatz

Carus-Verlag, Stuttgart.

Copyright

2019 by Carus-Verlag, Stuttgart and Max-Reger-Institut, Karlsruhe – CV 52.814.
Vervielfältigungen jeglicher Art sind gesetzlich verboten. / Any unauthorized reproduction is prohibited by law.
Alle Rechte vorbehalten. / All rights reserved.

ISMN

M-007-18850-4.

ISBN

978-3-89948-318-5.
The Twelve Sacred Songs and the Eight Sacred Songs op. 138, from which they can barely be separated, can be regarded as a compositional reaction to the outbreak of the First World War. Both opuses share not only the same text source, the Deutschen Psalter – Ein Jahrtausend geistlicher Dichtung by Will Vesper published shortly before, but were initially composed alongside each other in August 1914. The manuscript sources provide information about this: the surviving sketches for op. 137, preserved in a miscellaneous bundle, follow on seamlessly from the Hymnus der Liebe op. 136 written out in score around the third week of August – only nos. 9 and 10 occur earlier (see below) – and alternate with the sketches of op. 138. The sequence of sketches of both the works thereby corresponds with the later printed edition – apart from op. 138 no. 4 and op. 137 nos. 9 and 10, which are notated recto/verso on a separate folio. This is found between the sketches for the concluding fugue of the Telemann Variations op. 134, which had been completed by 15 August.1
–––––––––––––––––
Composition · Publication · Early reception
On 27 August 1914, just two days after he had written the date of completion at the end of the fair copy of the Hymnus op. 136, Reger informed his main publisher N. Simrock that he had "just completed a few sacred songs with piano accompaniment" and asked to be allowed to publish these with C.F. Peters. The answer from the publisher took a while to come. Only after Reger had made further enquiries and Simrock had agreed to the publication (see letter dated 4 September and postcard dated 5 September) was he able to send Henri Hinrichsen the manuscript on 6 September: "[…] these are 12 sacred songs for voice with accompaniment of piano, harmonium or organ–; the work is intended for domestic music-making; naturally all 12 songs can be used as solo songs in church concerts. The accompaniment is so fantastically simple that anyone can play it. I think it would probably be best to publish these sacred songs in the same format in which you published the Bach sacred songs with piano accompaniment!" (Letter) With this reference to the 25 Geistliche Lieder (aus dem Schemellischen Gesangbuch) 2 published the year before, Reger at the same time cited the historical model.
For Hinrichsen the Sacred Songs were "a happy surprise! – even though I cannot decide to publish […] new items now – as in peacetime, – I will nevertheless happily have the songs engraved and printed straight away and supplied on request. – Without question your sacred songs will be appreciated in wider circles, as well as at many charity events right now. – Officially the songs will be published in September 1915" (letter from Hinrichsen dated 7 September). Hinrichsen did not warm to Reger's suggestion for a parallel edition of "at least 6 pieces from the 12 sacred songs for four-part mixed choir" under the opus number "137 b" (letter from Reger dated 9 September) in view of the prevailing circumstances at the time (see letter from Hinrichsen dated 23 September).
As early as 20 September 1914 Reger and the soprano Elisabeth Angelroth performed the songs Bitte um einen seligen Tod, Uns ist geboren ein Kindelein, Grablied and Lass dich nur nichts nicht dauern (nos. 1, 3, 7 and 9) for the first time at a charity concert in the Protestant Stadtkirche in Hildburghausen.3 Reger must have made copies of these four songs after a meeting with the Meiningen singer on 4 September4 (and therefore before sending the engraver's copy to Hinrichsen, see above), but these copies are now missing.
Four days after the concert Reger received the set of proofs (see letter from Hinrichsen dated 23 September) which he returned on 29 September (see letter from Reger). On 17 October he expressed his thanks for the first printed edition: "the presentation is so the only right one: simple & tasteful! In my opinion it is not necessary to send copies to artistes – it is mainly only lady singers who come into consideration!" (Letter) The songs were advertised in Hofmeister's Musikalisch-literarischer Monatsbericht in November 1914. Hinrichsen's assessment that the songs would "be appreciated … in wider circles … right now" (see above), proved to be true. The first print run of 500 copies was soon sold out, so that further print runs were necessary in 1916 and 1917.5
The Twelve Sacred Songs were dedicated to Marie Wach, a daughter of Adolf Wach, the Leipzig law professor and member of the Gewandhaus management, and his wife Fanny Henriette (Lili), née Mendelssohn Bartholdy, who were friends of the Regers.
–––––––––––––––––
Composition · Publication · Early reception
3.
Translation by Elizabeth Robinson.
---
1
This could mean that op. 138 no. 4 and op. 137 nos. 9 and 10 had also been composed in the first half of August.
2
Edited for practical use by Hermann Roth (Edition Peters 3392a, Leipzig 1913).
3
On 25 September they repeated both the songs at a charity concert in the
Protestant Stadtkirche in Meiningen
.
4
See Reger's letter to Angelroth dated 2 September 1914, original missing, copy in the Meininger Museen (Max-Reger-Archiv), Br 514/154.
5
By 1942 almost 10,000 copies had been printed in 11 print runs (see Sächsisches Staatsarchiv, Musikverlag C.F. Peters Leipzig, no. 5222, Auflagenbuch).
In reviews there was particular reference to the "archaic form" (review) and to the closeness to Bach's sacred songs. Jakobus Menzen wrote in the Rheinische Musik- und Theater-Zeitung: "Both the texts and the form of the old sacred folk song used by Reger awaken these thoughts. In the harmonic interpretation of his poetry Reger goes beyond Bach. His cadences bring new, powerful, inwardly-based modulations; the sequence of keys touched upon in the course of his song melodies is manifold. […] In all these songs Reger brings to bear the rich colors of our time, but at the same time he is hindered by our era's lack of religious faith from exposing the depth and fundamental atmosphere of the poetry in as elemental and convincing a way as we have got to admire in the deeply religious Bach. […] Reger's most profound songs in this op. 137 are nos. 1, 3, 8, 9, and 11; may these very songs soon and often be found in the programs of our multitude of singing artists!" (Review)
–––––––––––––––––
Composition · Publication · Early reception
Reviews (ger.)
2.
Translation by Elizabeth Robinson.
This text is currently only available in German.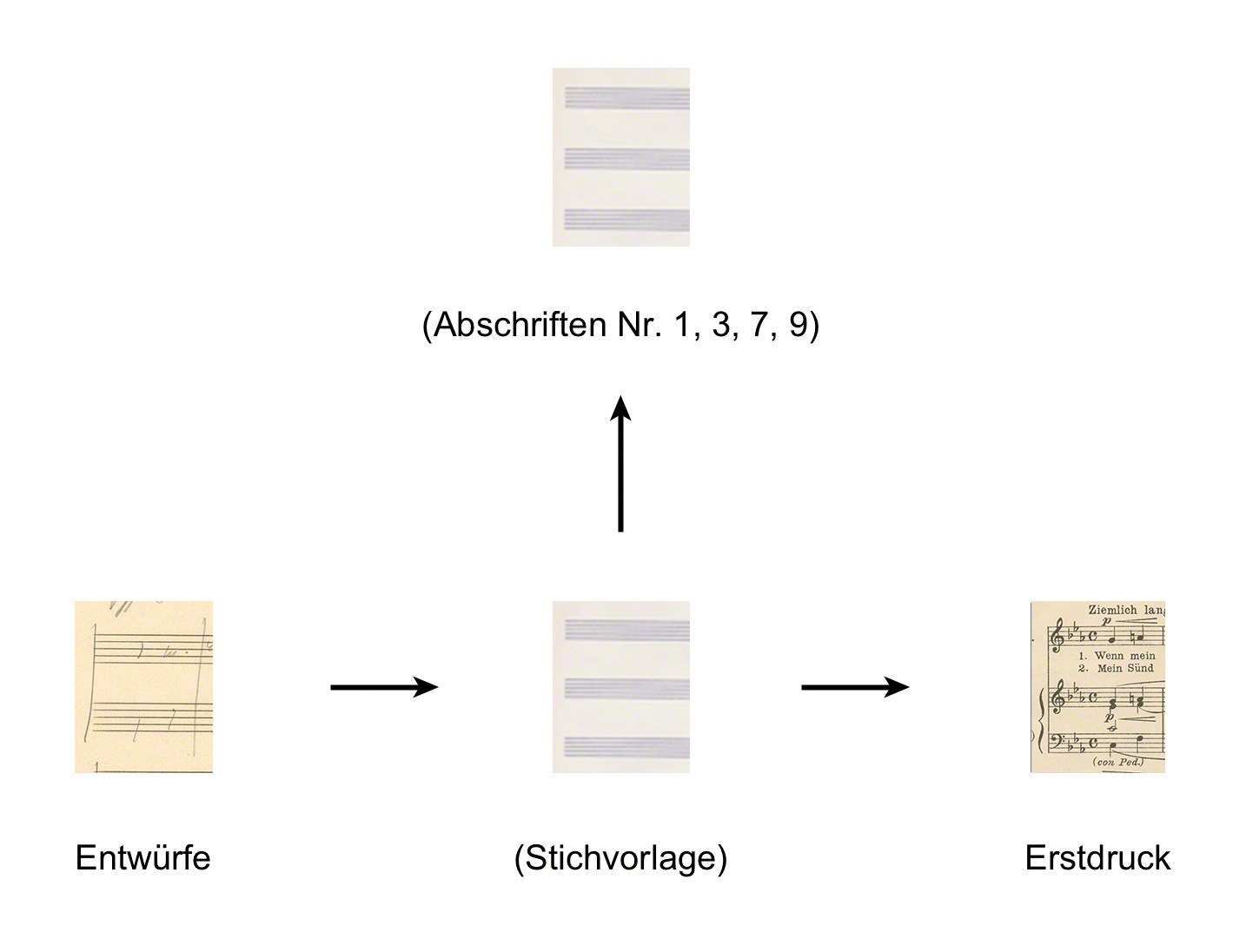 Der Edition liegt als Leitquelle der Erstdruck zugrunde. Als autographe Quellen wurden die Entwürfe und eine im Max-Reger-Institut erhaltene Fotokopie der Stichvorlage herangezogen.
Entwürfe
Stichvorlage
Abschriften der Nrn. 1, 3, 7 und 9
Erstdruck
Information
---
This is an object entry from the RWA encyclopaedia. Links and references to other objects within the encyclopaedia are currently not all active. These will be successively activated.