Seven sacred folk songs WoO VI/14
for mixed voice unaccompanied choir
Content
No. 1 Abendlied

Text: Matthias Claudius

No. 2 Altes Mailied in der Bittwoche

Text: unknown

No. 3 Es sungen drei Engel

Text: unknown

No. 4 Da Jesus in den Garten ging

Text: unknown

No. 5 Ein fröhlich's Gesang unser lieben Frauen, Osterfreud genannt

Text: Friedrich Spee von Langenfeld

No. 6 O Jesulein süß

Text: Valentin Thilo

No. 7 Wiegenlied der Hirten an der Krippe zu Bethlehem

Text: Christian Friedrich Daniel Schubart

No. 8 Nr. 7a Wiegenlied der Hirten an der Krippe zu Bethlehem
Dedication
Dem evangelischen Kirchenchor zu Essen (Ruhr) und seinem hochverdienten Dirigenten Herrn G. Beckmann hochachtungsvollst zugeeignet
---
Performance medium
Mixed choir [Soprano, Alto, Tenor, Bass]
---
---
1.
Reger-Werkausgabe

Bd. II/8:

Werke für gemischten Chor a cappella I

, S. 96–103.

Herausgeber

Alexander Becker, Christopher Grafschmidt, Stefan König, Stefanie Steiner-Grage.

Verlag

Carus-Verlag, Stuttgart; Verlags- und Plattennummer: CV 52.815.

Erscheinungsdatum

Juni 2018.

Notensatz

Carus-Verlag, Stuttgart.

Copyright

2018 by Carus-Verlag, Stuttgart and Max-Reger-Institut, Karlsruhe – CV 52.815.
Vervielfältigungen jeglicher Art sind gesetzlich verboten. / Any unauthorized reproduction is prohibited by law.
Alle Rechte vorbehalten. / All rights reserved.

ISMN

M-007-18831-3.

ISBN

978-3-89948-302-4.

Erratum

In Nr. 2, Takt 7 fälschlich »den« statt »dem« in der 1. Strophe.
---
1.
Composition and Publication
Whilst Reger initially compiled exclusively collections of secular songs, first for male voice choir, then for mixed voice choir, after his return from Wiesbaden to Weiden (see above, Context), at the beginning of 1900 he turned to arranging sacred songs. He was encouraged to do this by Karl Straube (see Letter dated 26 January 1900 an Alexander W. Gottschalg). Writing to the Protestant church musician Gustav Beckmann in Essen, who enquired about sacred choral works, he admitted: "I do not yet have sacred à capella songs (4 pt.); but in the near future I will set sacred folk songs for 4–5 part choir […]. If you know of any really beautiful melodies, do please let me know about these (with the texts!)". (Letter dated 15 January 1900) Shortly afterwards Straube must have provided him with the relevant text and melodic sources (see letter dated 2 February 1900 an Gustav Beckmann).
On 26 January Reger explained the plan he had already adopted to Alexander W. Gottschalg, the editor of the periodical Urania: "Of course it is pure a cappella writing, without chromaticism, much use of church modes. I am intending to publish 2 collections; the 1st [WoO VI/13] arranged in one volume so that it will be a chronologically-arranged kind of illustration of the Protestant church year; i.e. 2 choruses for each of the various feast days and seasons. (12 no) The 2nd collection [WoO VI/14] (sacred folk songs) will appear unbound like my other folk songs & contain 7 pieces. This "self-chastisement" gives me a lot of fun, & 5 nos. of the first collection are already finished." (Letter)
Die Sammlung der Sieben geistlichen Volkslieder widmete Reger und dessen Essener Kirchenchor, während die Zwölf deutschen geistlichen Gesänge und dem von ihm geleiteten Kirchenchor der evangelischen Gemeinde in Wesel dediziert sind. Bereits am 2. Februar informierte Reger Beckmann über die Vollendung beider Sammlungen und über deren Widmungen, bat jedoch mit Blick auf ihr Erscheinen um Geduld. Vor der Abgabe müsse er zudem "die Stimmen vorschreiben – das ist eine Arbeit von mindestens Seiten (mit so und so viel Strophen Text!) Wäre hier ein Copist' so könnte ich ihm diese entsetzliche Arbeit übertragen – aber so muss ichs selbst machen! Solch eine Arbeit ist geisttödtend und hält auf!" Ende April schließlich sandte er "an opera 45–47 und die Bearbeitungen der geistlichen Volkslieder". Reger dedicated the collection of Seven sacred folk songs WoO VI/14 to Beckmann and his Essen church choir, whereas the Twelve German sacred songs WoO VI/13 were dedicated to Straube and the church choir of the Protestant parish in Wesel which he conducted. As early as 2 February Reger informed Beckmann about the completion of both collections and their dedications (see letter), but asked for his patience with regard to their publication. Before submitting them he also had "to label the voice parts – that is a work of at least 166 pages (with so many verses of text!) If there were a copyist here, I could delegate this terrible work to him – but I have to do it myself! Such a task is soul-destroying and holds you up!" (Brief vom 31. März an Beckmann) At the end of April he finally sent "opera 45–47 and the arrangements of the sacred folk songs to Aibl" (letter dated 26 April to Beckmann).
–––––––––––––––––
Composition · Publication · Early reception
2.
Translation by Elizabeth Robinson.
---
At present, there are no records of performances in Reger's time.
---
This text is currently only available in German.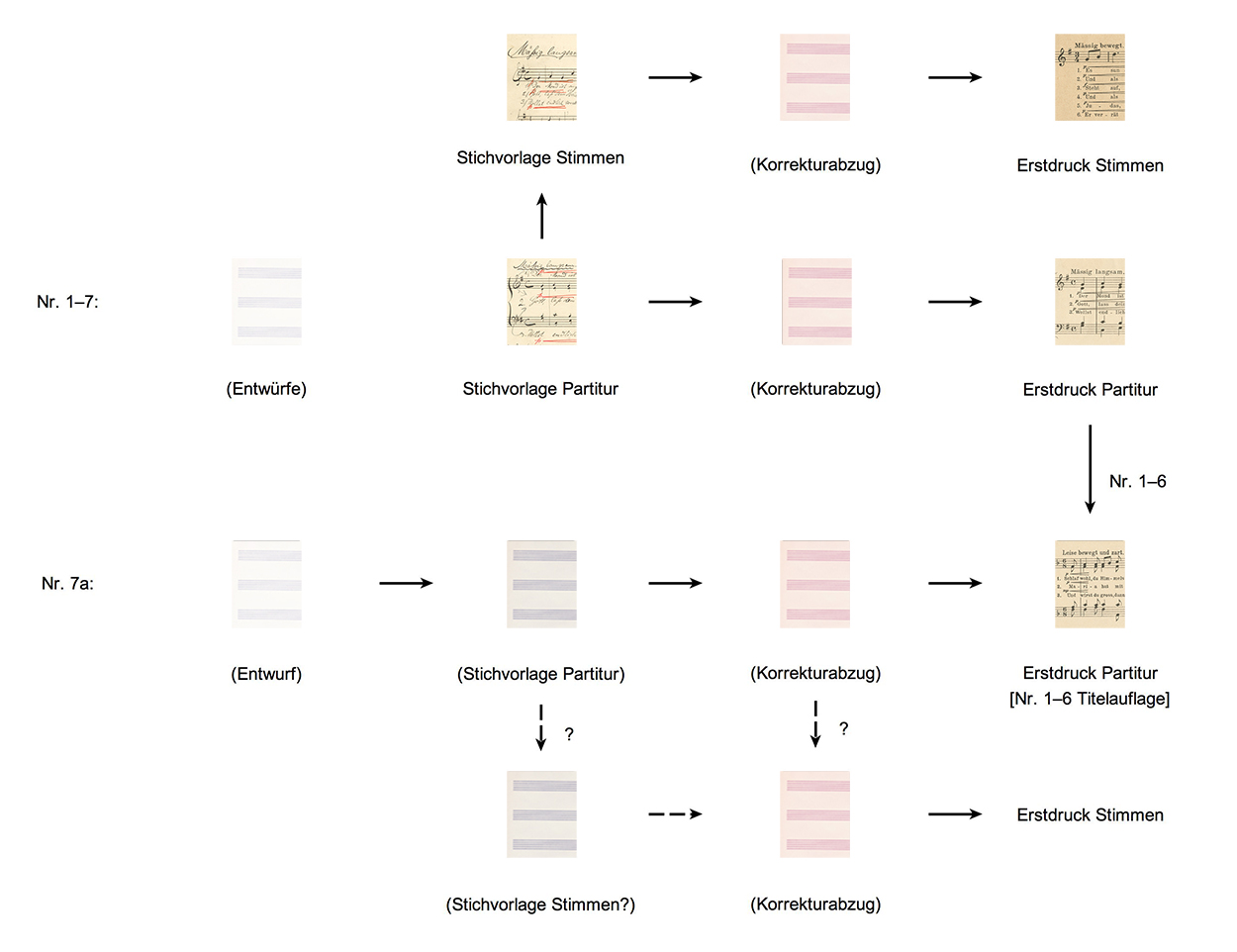 Der Edition liegen als Leitquellen der Erstdruck der Partitur und für Nr. 7a die Titelauflage zugrunde. Als zusätzliche Quellen wurden eine Titelauflage von Heft 2 der Stimmen sowie die autographe Stichvorlage von Partitur und Stimmen herangezogen.
Stichvorlage Partitur und Stimmen
Erstdruck Partitur und Stimmen
Titelauflage Partitur/Erstdruck Nr. 7a
---
Information
---
This is an object entry from the RWA encyclopaedia. Links and references to other objects within the encyclopaedia are currently not active. These will be activated with an update later in 2022.